12 ways to generate B2B leads on LinkedIn
It's a fact that LinkedIn is one of the top B2B platforms for creating and sharing professional content!
This is because LinkedIn allows users to share their professional skills and interests with the rest of the world.
When it comes to B2B, Linkedin is preferred over other social media platforms because it has more than 800 million users today, many of whom are currently working professionals.
This enables you to leverage its vast user base to expand your network among like-minded peers across the globe.
During the COVID-19, we have seen a surge in user engagements on LinkedIn. Let's check the top 12 ways to generate leads from LinkedIn.
Optimize Your Personal Profile
Update your profile picture. Having a professional photo is a must for LinkedIn, and it will make you 14 times more likely to get a click-through.

Have a clear name and headline. Your headline should be concise and should make it clear what you do. Make sure that your name is correctly spelled so people can find you easily.

Use the about section to highlight your experience, expertise, skills, and accomplishments. This section is the place to show off your personality and industry knowledge, so take advantage of each word you have at your disposal by putting yourself in the shoes of someone looking for an expert in your area of expertise (you!).

Don't forget other work experience sections. The work 'Experience' section gives you plenty of space about your accomplishments in the companies you worked with. It is highly recommended that you include your volunteer work, projects, and freelance gigs regardless of full-time or part-time employment.

Employers want to understand what you can bring to the table. Talk 25% of your learnings and 75% of the value you gave to each organization you worked with. That's how you make yourself more appealing.

If you have any awards or honors to add here as well, don't hesitate to flaunt them… humbly!

Add featured sections to drive traffic to website/landing pages on topics helpful to potential prospects' challenges or interests—making it relevant gives people who are visiting your profile a reason they should visit other parts of your online presence as well (and hopefully keep them coming back).

Ask for recommendations from colleagues & clients! Recommendations from peers are an essential part of making sure that when someone looks at your LinkedIn profile, they see all around credibility—so don't shy away from asking for them!
Make connections:
If you want to generate more leads on LinkedIn, connect with people in your industry. The more LinkedIn connections you have, the more opportunities you create for yourself.
Connecting with people from your niche and target audience will keep you closer to opportunities fulfilling your career/business goals. You can use grouping and tagging features to stay organized.
Once you get comfortable, connect with people who will be relevant to your business growth.
Here are six types of people worth considering:
People you know:
You already have an existing relationship with these contacts, and they may be interested in what you have to offer or know someone who would be. It's easy enough to reach out and ask whether they'd be interested in hearing about what you or your company does.
People at industry events: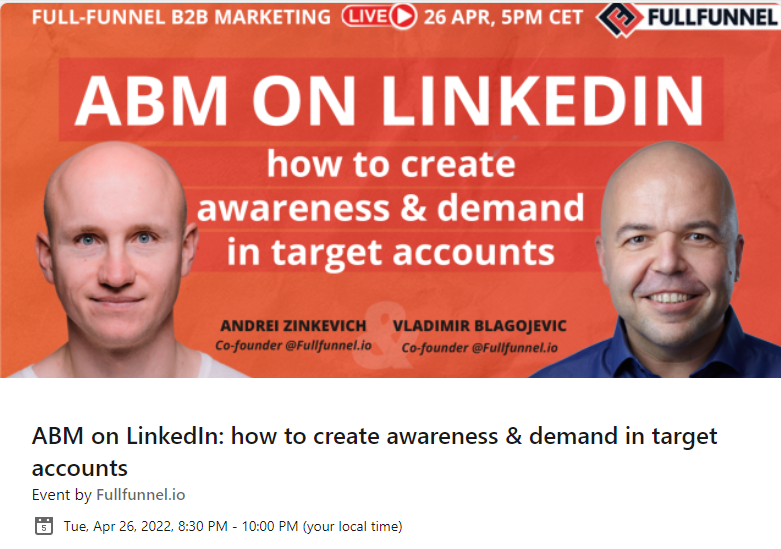 If you think you may not get sufficient time to connect with the people during or immediately after the meeting, scan through their profiles before the event to determine how valuable they could be to you.
You may accordingly give attention to the right people during the event. Try to connect with them before the event using DMs or via email.
Remember that if they agree to meet up, it's essential that you keep track of those meetings and follow up afterward so that the time and energy spent on setting them up don't go in vain.
People through your network:
People willing to provide recommendations for others are more likely to be established professionals than entry-level employees who are fresh out of college without much work experience.
Such recommendations bring enormous value to your profile by making it look genuine and authentic. Therefore, connections with high-profile people could be valuable assets, especially from your niche.
Share Valuable Industry-Related Content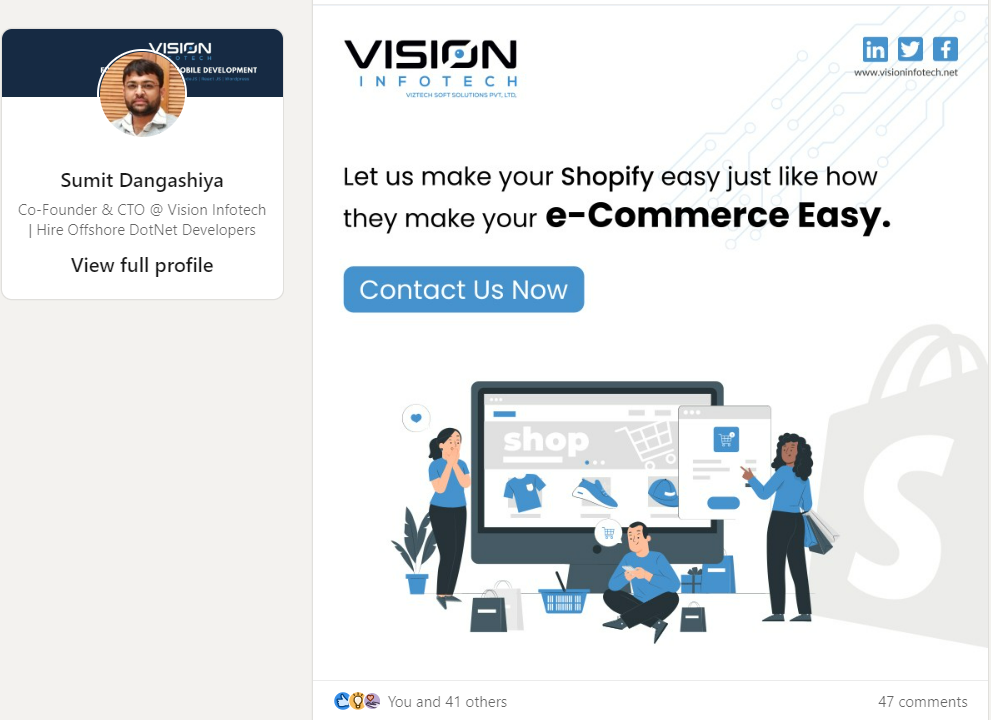 If you're sharing valuable industry-related content, your followers will see that you know what you're talking about, giving them more confidence to do business with you.
As a B2B marketer on LinkedIn, it makes sense for you to share your own stories and content. However, content from external sources (with due credits) can be just as valuable—or even more so!
If the people in your network repeatedly see the same stories from your brand, they start getting bored and might not want to read your content anymore. By sharing different pieces of content from other sources on LinkedIn, you can help keep things fresh and exciting.
You might be worried about sharing competitors' content on LinkedIn because you wouldn't want to promote their brand. While this is understandable, if your goal is to generate leads for your business by building relationships with potential customers through thought leadership—as opposed to simply competing for sales—this shouldn't be a problem!
The people who follow both companies will probably see these posts anyway; why not show them that yours has something unique or better than its competitors? Plus, some companies may not have efficient social media teams, so anything they post may look outdated or boring compared with what other brands post online.
Build Relationships With Influencers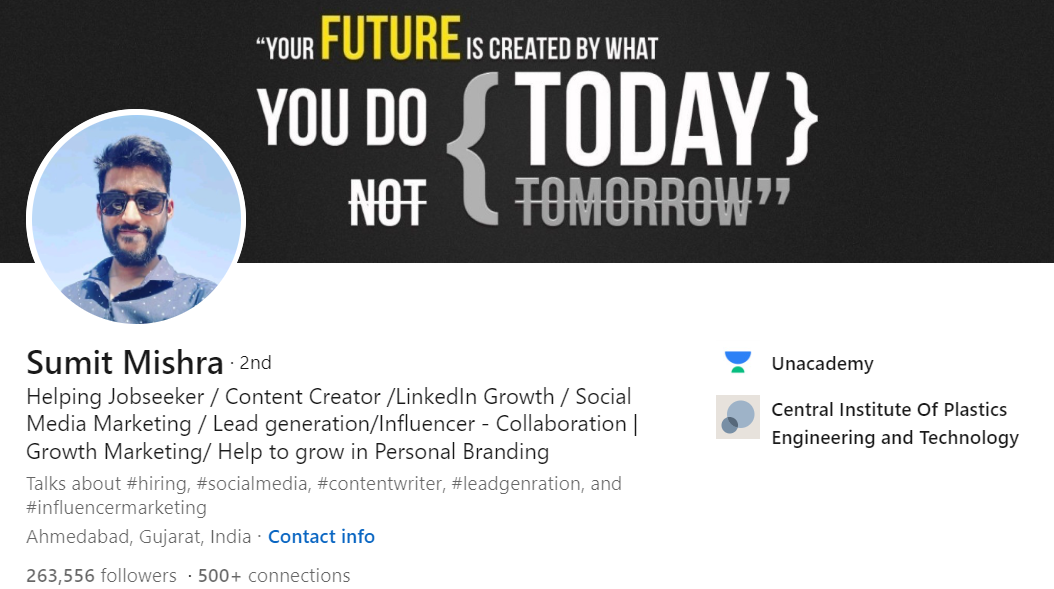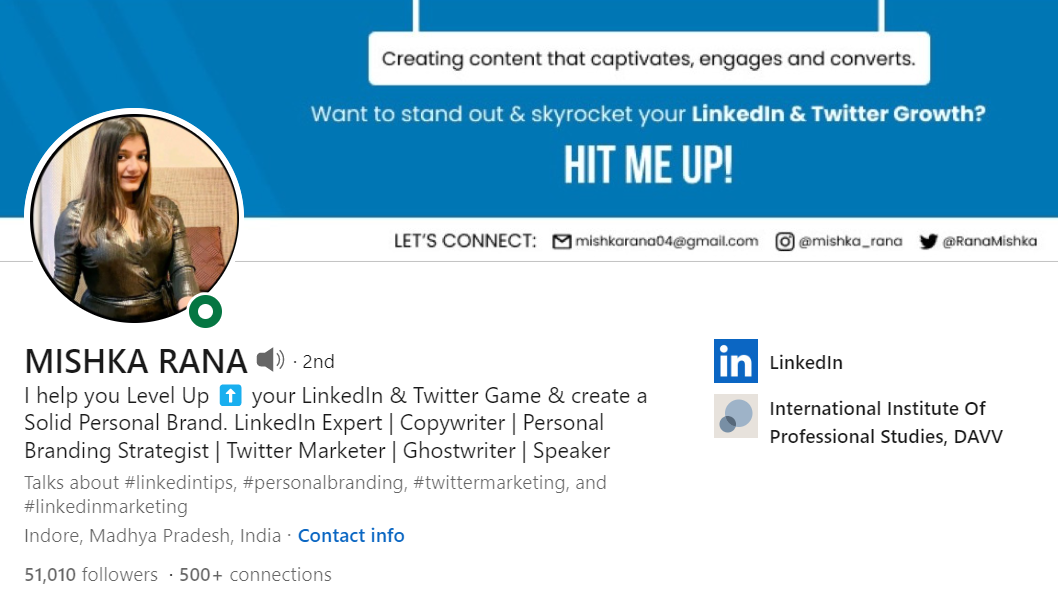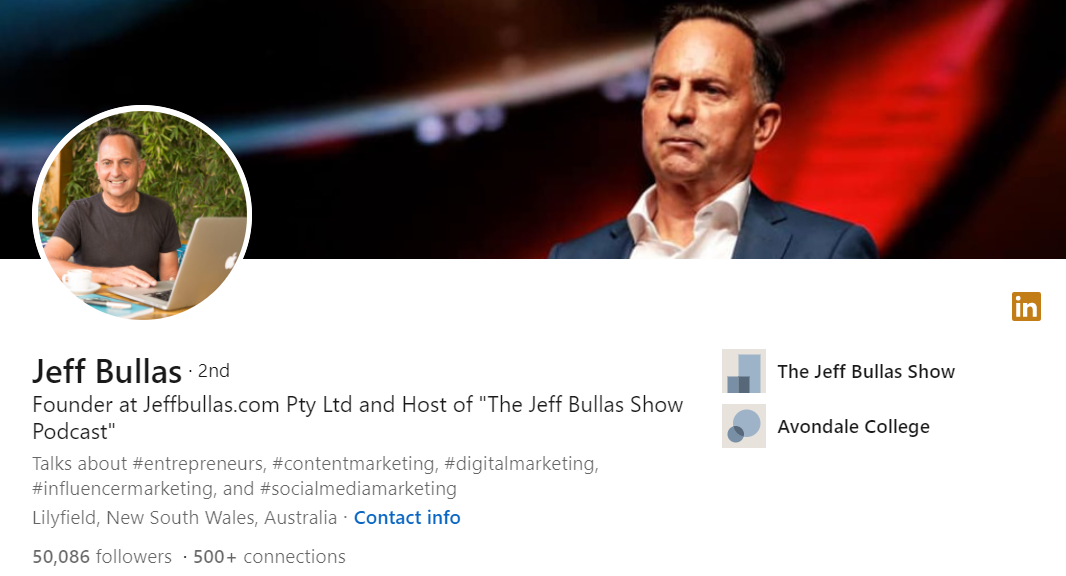 It would be best if you were building relationships with influencers in your industry. As you do this, engage with their content and add value to the discussion by leaving thoughtful comments that add to the conversation.
Remember, when you're networking on LinkedIn (or anywhere else, really), always make sure you add value before asking anyone for anything.
Adding value can be anything from providing an interesting perspective to sharing a useful resource or link.

This goes to engage with influencers' content and join in conversations in industry groups. Just make sure your comment is genuine and not spammy!
Create A Company Page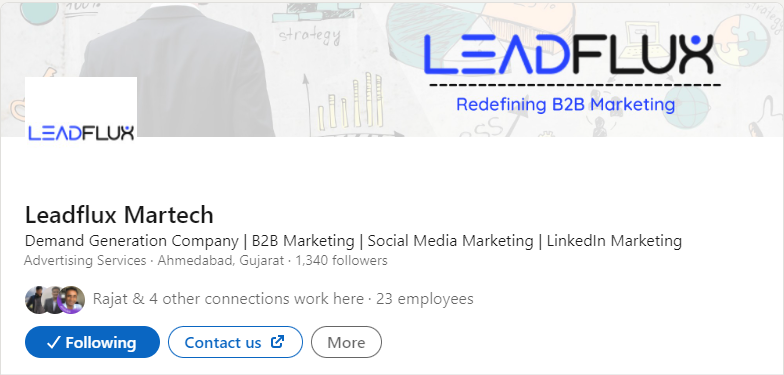 Create a company page

Add your company logo, description,, and

website URL

Build your followers base by adding employees as admins of the page and promoting it through personal LinkedIn profiles and offline marketing channels

Post company updates via your company's profile page for all followers to see
Get Employees To Share Company Updates
If you've got a solid content strategy that offers good value and riveting updates, your employees want to share them.
You may encourage them to engage and share by providing incentives and gift cards if you share an update on LinkedIn. Or a contest—most shares in a week/month win a prize.
How do you know what kinds of updates your employees are more likely to share? Ask them! Put out a survey on Slack or via email asking what they would be most interested in sharing with their network.
For example, is it news about the company that relates directly to their work? Is it an update about a charitable cause the company is involved with?
Start A Group Of Your Own
LinkedIn groups are one of the most effective ways to generate leads—but only if you create high-quality content that stays active.
If you have particular expertise or passion, think about starting your own group.
Creating a group is a great way to build an engaged community around a topic (or topics) of your choice.
You can share posts, start discussions, and upload videos for members to enjoy for each group.
As the group owner, you'll also have access to conversations happening in private messages between members.
But don't worry! Running a successful group doesn't entail posting every day on behalf of the group and monitoring every discussion that arises in real-time.
Group admins can create rules and approve posts before they go live—and even promote other admins who contribute significantly to the community's well-being.
In short: You get as much out of it as you put into it!
Create LinkedIn Sponsored Content
Sponsored content is effective because you can reach your target audience with LinkedIn's specific targeting capabilities.
You can advertise to a precisely targeted group of individuals based on their demographics and professional interests.
You can also retarget people who have already visited your website or converted in the past.
The cool thing about sponsored content is that it lives right in the feed, alongside other organic content and articles posted by connections.
This means users will see your ads while browsing through their feed, and they'll be able to engage with them precisely as they would any other post.
When creating a sponsored content ad, you'll be able to choose from either an image or video format (or both).
Remember, not everything has to be text-heavy—feel free to use images or videos instead of solely relying on words!
Run LinkedIn Ads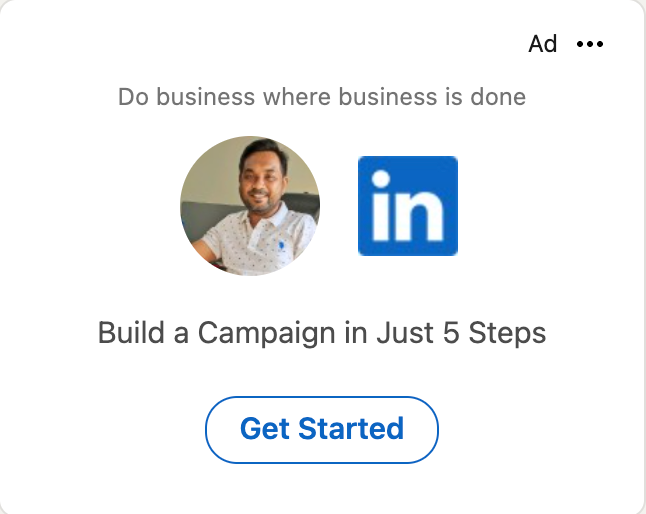 Once you have your LinkedIn Ad campaign up and running, you can use the LinkedIn Ads tool to:
View the results of your campaign

Optimize the performance of your ads

Manage the size of your budget

Pause or restart an advertisement at any time
To track results from a custom audience campaign, you'll first need to install the LinkedIn Insight Tag on every website page.
Once that's done, you can view demographic data for users who visit your site—including their company name and industry. This gives you crucial information about which industries are clicking through and converting on your website.
You can also retarget users who have clicked on one of your ad campaigns with a Sponsored Content campaign using InMail (LinkedIn's proprietary messaging service).
The key here is to customize each massage based on a user's actions while they are on your site (e.g., a user who viewed pricing information may be sent different messaging than one who viewed product details).
This kind of personalization can help increase conversions even further.
Showcase your brand through LinkedIn Publisher
The first step to leveraging LinkedIn Publisher is writing and publishing an article on it. When you write your article, make sure that you're following the best content marketing practices. That means it needs to be:
Newsworthy

Compelling

Not overly promotional or self-serving

Well written
Here's an example of one of my favorite LinkedIn articles about LinkedIn Publisher, "Should You Use LinkedIn Publisher?". It meets all four of these criteria, so it would have a good chance of being accepted as a guest post by the publisher.
Plus, I learned something from reading it! (If you're not familiar with the term, "guest blogging" read our blog post about it.)
Become a thought leader in your field
These tips will help you generate more B2B leads on LinkedIn
Share thought-leadership articles, videos, and posts

Take advantage of the opportunity to share your own unique story with LinkedIn by writing and publishing articles on the platform.

Add a call-to-action button to your page.

Make it easy for your audience to contact you with actionable buttons like "Contact Me" or "Learn More" that redirect users to your site or landing page.

Create a company page free from errors

People trust companies that present themselves professionally, and an error in basic details can quickly break that trust. Double-check all of your information before posting: spelling, grammar, hours of operation, etc., and make sure you're posting consistently and frequently (and keep this up for everything else you do on LinkedIn).

Link out to landing pages within your profile bio

Your bio is prime real estate—use it! Highlight the best parts of

what you have to offer in the space allotted; include special offers; showcase vital stats; add links and calls-to-actions; change up what's in there every once in a while (but don't go overboard) to see what works best for you. Use these tricks whenever possible, as they will help lead people down the path towards converting into leads!
Concluding Thoughts
Linkedin is one of the top platforms for individuals and businesses to build their personal and professional brands. Growth on LinkedIn stands tall on three factors:
how well you have optimized your profile

the kind of network you create

how much engagement your content generates.
It entirely depends on what you choose. Whether you want organically generated inbound leads through lead farming and nurturing or want to play a door-to-door salesman to be ignored and despised by your prospects.
The challenge is that business owners are not able to crack the code of growth and give up too early.
Our shared strategies are time-tested and generated results for us and our clients irrespective of any niche in B2B businesses.